3

Description

The TPS565201 is a simple, easy-to-use, 5-A synchronous step-down converter.

The device is optimized to operate with minimum external component counts and also optimized to achieve low standby current.

This switch mode power supply (SMPS) device employs D-CAP2™ control, which provides fast transient response and requires no external compensation components. D-CAP2 also allows the use of low-equivalent series resistance (ESR) specialty polymer capacitors and ceramic output capacitors.

The TPS565201 operates in pulse skip mode, maintaining high efficiency during light load operation.

The TPS565201 device is available in a 6-pin 1.6-mm × 2.9-mm SOT (DDC) package, and operates over a –40°C to 125°C junction temperature range.
Device Information(1)
| PART NUMBER | PACKAGE | BODY SIZE (NOM) |
| --- | --- | --- |
| TPS565201 | DDC (6) | 1.60 mm × 2.90 mm |
For all available packages, see the orderable addendum at the end of the data sheet.
spacer
spacer
Simplified Schematic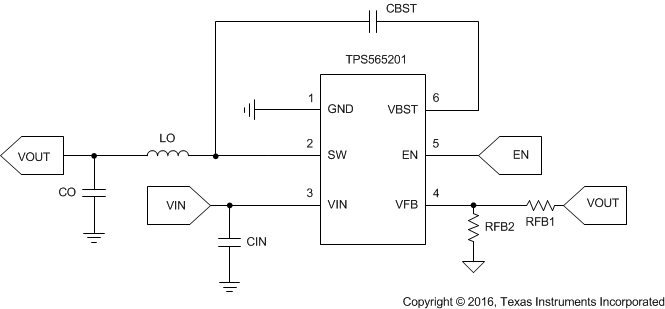 TPS565201 Efficiency